JUSTIME Has Won 6 Taiwan Excellence Awards For 2020
Taiwan Excellence believes that innovation makes a difference in everyone's life.
Excellence means creative designs that we use every day
on the street, at work, at home.
It's the things we touch. It's the things that touch us.
Six JUSTIME design won 2020 Taiwan Excellence Awards.
Pan 2 Basin Faucets
Design Team created the Pan 2 Faucets with concise style, and integrated rectangular and circular lines into the shape design to fit for different basins easily and provide users various choices. Though it has just used the most basic geometric elements, the design team also varied the faucets to be special and bring the positive benefit for bathroom.
"Pan-" a combining form meaning "all." We are eager to hope all users would have chances to experience our high-quality products, and it could start from this Pan Series which has perfect harmony with various basins and bathroom designs.
Yes 2 Basin and Shower Mixer
YES series was designed with brief lines and geometric cylinder for simplifying outer shape and presenting the absolute image.
YES 2 developed with module inlet structure to simplify built-in valve and changed cartridge to be outside of wall not only reducing part and seams of joint but also increasing convenience of replacement and maintenance. Cylindrical handles were machined to be operated facilely. User only need to operate flow rate control handle after well regulate water temperature by the other handle. As users work with lower handle of basin faucet to adjust flow rate or shut off mixer, water will drop into basin for maintaining a clean space easily.
Handles were designed at ends of Y shape to reduce size of shower mixer; they could be hot and cold handles or thermostatic and flow control handles. Module inlet structure could be applied into various products with similar spirit and brief look.
Nature Bath and Shower Mixers
Designer observed kinds of organisms to sketch contours of product for expounding orderless growth and concept of meristem. Mixer has been combined with stylish handles and organic spout just like to personally experience the pulsation of life.
Installation of concealed valve should be finished before final decorative wall, but there is no chance to rework if there is any mistake. Our brand-new movable cartridge of concealed valve could break the limitation to gain extra 0.4 inch (10 mm) adjusting space after finish installation. Users/plumber could have second chance to move cartridge for correcting mistake and no need to re-work the final wall. Because of movable cartridge of concealed valve, outer handle could keep the same appearance with perfect condition.
For our clients, we provide not only a good solution, but also additional value of products for consumers; for plumbers, this valve design is easier to install and provide a better solution among similar products.
Chapter Basin and Sensor Faucet Combination
Water is a necessity of life. Chapter faucets combine concept and imagination of western and eastern cultures with modern design, creating simple and beautiful products which herald a brand-new era of water containers.
Chapter Basin Set is a creative design combines basin and faucet together by inspiration of water supply. Pure white basin is like a well has been designed with faucet to get water like windlass. Water will be drawn out under basin and flow out from upper pipe to perfectly represent the image of windlass. Contemporary lines and sensor valve provide a brief appearance and increase the value of product.
Lucky 7 Basin and Faucet Combination
Seed is the fountainhead of plant, and each budding seed is the symbol of hope and happiness. Outlets of"Lucky 7"are like stalks to present various styles as creative ideas of designers. Basin Faucet Combination has been designed with basin and faucet, faucet is like growing stalk goes through the rock to present strong vitality and wills.
Succinct pillared shape design simplified lines of spout and handle for not only presenting complete figure to be brief and elegant, but also decreasing time and cost of production. Stick Handle has been designed to operate easily in wet or slippery conditions. Spout could be swiveled for convenient using.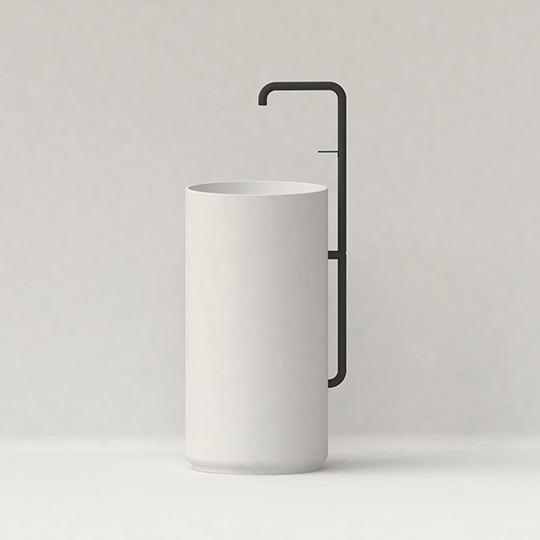 Arch 2 Basin Faucets
Square and round of Arch 2 Basin Faucet present on the spout and handles design to display the perfect interpretation of ancient wisdom and modern style.
Handles have been designed with straight and curved lines which created the unsymmetrical vision to catch people's eyes, moreover, designer symmetrically arrange two handles on both sides of spout brings back the balanced and stable vibration.
Products